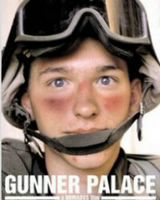 Until the last few centuries families and commerce traveled with an army while it was at war. Information about battles, being able to witness the action and knowing the outcomes was immediate. Then it became the practice of the military to isolate itself from the civilian and dependent population as the path to war started to span across continents and oceans.
So far removed we became dependent on the militarys to report on themselves, or on war correspondents that were heavily guided by networks and governments. Of course, if the battles are in your backyard the story is quite different.
What has changed recently is access. Once again we have opportunity to experience, witness, and know. Through technology and social pressure we can know what is real. For each person effected by any war this change could be wonderful or catastrophic. What is important is that we have a choice.
Gunner Palace
is just such an effort to show more than just news clips.